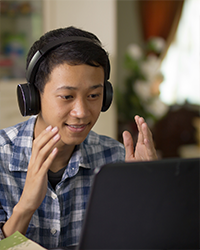 Online Drama School: Specialty Classes Winter Gr. 7-12
Venue
Performance Notes
×
Who Says We Can't Have Drama Club! (Gr. 9 – 12)
Are you sick of being online – divided and cut off from after-school teams and activities? Can any fun be had on Zoom? YPT's online drama classes may be what you need. Whether you are interested in performing or writing – we rant, riff, improvise, collaborate and laugh while teasing out all the fun – and drama – that can be had in every activity. YPT Drama School online – definitely NOT boring. (120 minutes).
Online Content Creation (Gr. 7-12)
As youth are increasingly online, this course aims to provide context, constructive reflection and innovation to support their creative output. Participants will work on a variety of short video projects, learning the fundamental elements of visual story-telling. This hands-on investigation will consider everything from 'what is your message?', to developing your story idea, to breaking it all down into individual shots, and then the fun of shooting and editing! Please note there will be an expectation that some work is done outside of class time. (120 minutes).
Shakespeare Monologues (Gr. 9-12)
"Romeo and Juliet – the original teen angst show. Our young ensemble of actors will each tackle a different monologue from this iconic romantic dramedy. The aim of this course is to develop a joy in playing with language. Students will learn various techniques to break down monologues into bite-sized parts, to use word play, to demystify the rhythm of Shakespeare's poetry, and to lift the speeches off the page. This course's ethos is low pressure, high passion. Come find out what the big deal about Shakespeare is." – Instructor Naomi Wright
Approximate running time: 2 hours