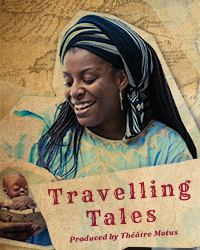 Travelling Tales (EN) PUBLIC
For the FRENCH VERSION please click here.
When
Runs from Tuesday February 1 2022 to Monday February 21.
(Please note: Tickets for performances on Feb. 20 and 21st must be purchased by 4pm on Fri., Feb. 19)
Approximate running time: 1 hour
Watch Online
This performance will be available to view for 48 hours, beginning at 9am on your selected performance day. Simply log in to your YPT account and select the 'Live Ticket' button from your account home page.
Performance Notes
×
HOW TO BOOK PUBLIC PERFORMANCES:
1. Choose your viewing date (you'll have 48-hour access).
2. Select the number of households viewing this performance.
3. Choose your price (This is a Pay-What-You-Choose event. We thank you for considering the value of this performance and appreciate your support. Tickets purchased at $100 will receive a $25 tax receipt)
4. Verify your purchase and click "Check Out & Pay".
5. If you haven't already logged in to your account, you'll be prompted to do so. If you don't have an account, signing up is quick and easy; simply click "New Patron" and provide your details.
For information on accessing your performance click
here
Total Viewing Length: 1 hour(s)