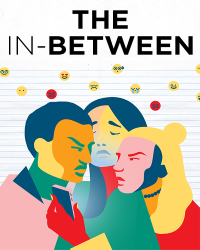 The In-Between - SCHOOL
When
Runs from Monday April 25 2022 to May 14 2022.

Approximate running time: 1 hour
×
PLEASE NOTE: This performance is available on demand beginning APRIL 25 and runs through MAY 14.
The 6 "Need-to-Knows" Before Registering Your Class
1. A single class is considered a group of up to 30 students (max.) and the cost is $50 per class (+HST)
2. No deposit is required to register. An invoice will be emailed to you by Box Office staff.
3. Once registered, you'll receive an email receipt of your registration.
4. You're officially booked once you've completed a follow-up confirmation email from YPT's box office, and an invoice has been sent to you.
5.The performance will be accessible by signing in to your account. (A reminder email about how to access the event will be sent prior to your selected date.)
6. Access to the performance will be available any time
up to and including May 14, 2022
via your YPT account.
For information on registering your class click
here